Training the CMS: Building a Better Authoring Experience
Workshop scheduled at 1:00-4:00 in Room 1 (Johnson)
Nothing brings content and design strategy to life like launching a shiny new site: teasers fit neatly without any awkward ellipses, images are cropped perfectly for different screen sizes, and related content is wonderfully relevant. But after a few months, I see things start to slip: headlines are weak, teasers don't contain any helpful information, and article bylines are pasted into the Body even though there's a separate Author field.
What happened? I wrote a training document, but it's like no one even read it! Well, guess what: they probably didn't. Segregating content guidelines into a separate document is a great way to make sure no one besides me sees them. If I want site administrators and authors to remember how to write the headlines, what information to include in the teasers, and what layout to use for the slideshow images, I have to put the content guidelines where they'll see them: inside the CMS.
In this workshop we'll explore how to improve the authoring experience for the people who are creating and maintaining content in the CMS after the site is built. We'll talk about how to name and organize fields, and what kinds of plugins and modules exist for popular CMSs to make content creation smoother and more pleasant. We'll work through exercises that help us think like our authors so we can write help text that lets them do their jobs well. There will be worksheets! There will be group activities! There will be sketching! Most importantly, we'll learn how to communicate the information needed for ongoing support of structured content, information architecture, and design.
Learning Outcomes:
Identify gaps in content training that can be addressed through improving the CMS authoring experience.
Write field names and help text that help authors create content that meets the needs of the design and content strategy plan.
Figure out ways to work content training into existing website development processes.
Attendee Skill Level: Experience with CMS administration (though not necessarily as a programmer – as a user is totally fine too!). This is relatively beginner-level, though familiarity with structured content and other basic content strategy ideas would be helpful.
Presented By
Eileen Webb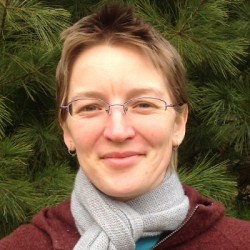 Eileen Webb is a co-founder and partner at webmeadow, a firm that helps progressive organizations develop content and technology strategies to make the world a better place. Her background is in server-side coding and being that odd person who translates between the marketing and development teams. Webmeadow's offices are located on a solar-powered farm in northern New Hampshire; her Twitter feed is equal parts content strategy and pictures of poultry.
Follow @webmeadow on Twitter